These Random Facts About Food Will Blow Your Mind
Food could literally be my favorite thing in the entire world and I know I'm not the only one who feels that way. Whether it be a homemade dish, a greasy In and Out Burger, or simply a peanut butter and jelly sandwich, a good meal or hearty snack is simply awesome. Think about it! 
There are tons of shows that literally surround food and there's an entire industry that revolves around food and it flourishes on a daily basis. 
Food brings families together, makes the holidays memorable, and is a form of expression for amateur and professional chefs alike! As you scroll through these food facts, remember to keep an open mind because some of these facts may shock you.
Everybody loves a good meal
Stuffing your face is a pastime of many people around the world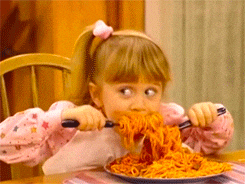 Oysters are living while you eat them!
And get this! If you eat them when they are no longer alive, it can make you super sick
That nasty white stuff on your salmon is actually REALLY good for you
It's full of protein which your body craves to be healthy and whole
Sorry to burst your bubble
But all fruit loops are the same flavor, regardless of color!
All peppers were made equal
They literally all start out green in the beginning
Bland diets lead to a bland sex life
Therefore, graham crackers were created in order to calm people's crazed sexual behavior
The Pepsi vs. Coke debate isn't that serious
Since there's literally only ONE different ingredient between the two
Parmesan cheese is not vegetarian-friendly
It contains calf rennet, which is an enzyme found in the stomach lining of cows
Washing your chicken does nothing for you
You cannot remove bacteria with just water and you're actually spreading germs when you do this
Butter really needs to be stored in the fridge
It can develop a disgusting taste when it's overexposed to oxygen
Mountain dew is nothing more than a little OJ
So drink it up for breakfast, I guess!
Happy Eating!